2A. TROPIMUNDO Consortium
The TROPIMUNDO Consortium is composed of the following 5 European (EU) and 4 non-EU Higher Education Institutions (HEI):
EU HEI:
the Université Libre de Bruxelles/
ULB
and the Vrije Universiteit Brussel/
VUB
in
Brussels, Belgium
, the Université Pierre et Marie Curie/
UPMC
and the Muséum National d'Histoire Naturelle/
MNHN
in
Paris, France
, the Université de la Guyane française/
UdG
, in
Kourou, French Guyana
, the Université des Antilles/
UdA
, in
Guadeloupe
,
French West Indies
and the Università degli Studi di Firenze/
UNIFI
in
Florence, Italy
, and
non-EU HEI
: the Université de Dschang/
UDsch
in
Dschang, Cameroon,
 the Université d'Antananarivo/
UNIVANTA
, in
Antananarivo, Madagascar
(starting academic year 2018-2019, pending signature of the TROPIMUNDO Consortium Agreement), the Universiti Malaysia Terengganu
/UMT,
 in
Kuala Terengganu, Malaysia
, the University of Hong Kong/
HKU
, in
Hong Kong, China
(starting academic year 2018-2019, pending signature of the TROPIMUNDO Consortium Agreement), and the University of Queensland/
UQ
in
Brisbane, Australia
(until academic year 2017-2018)
. 
We are currently entertaining new contacts with universities in the
USA
to extend our Caribbean study pole.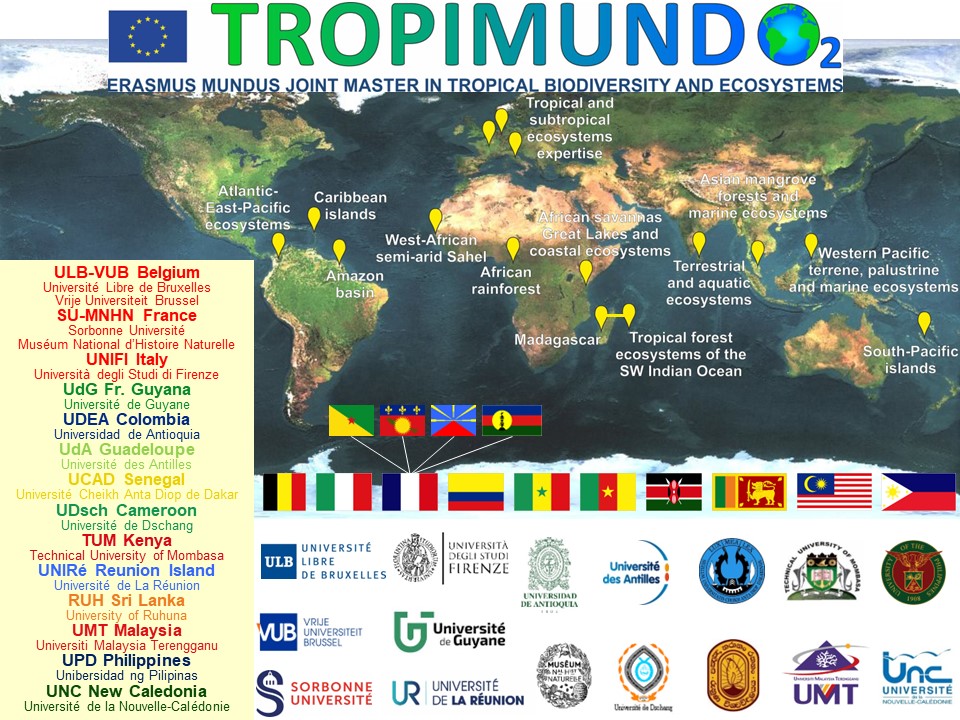 Figure caption on TROPIMUNDO map:
Rough overview of the geographic distribution and ecosystems under focus at the different partner institutes involved as full partners. The possible mobility tracks between these institutes are indicated in the figure on TROPIMUNDO Trajectories in 4 semesters (Section 2C).
Most of the Local Program Coordinators at each participating HEI or their immediate colleagues are
senior researchers
in the fields of tropical biodiversity and ecosystems, each of them focused on a particular ecosystem (see
www.tropimundo.eu
homepage). The European institutes have
complementary specialisations
with the Belgian HEIs specialised in an ecosystem approach of tropical forests and wetlands, the French HEIs specialised in vegetation and plant science of tropical rainforests, and the Italian HEI specialised in zoological aspects of tropical and coastal ecosystems.
The HEIs located in tropical areas provide additional complementary partnerships by offering an
in situ
field course, in addition to a number of other courses. Regardless of the expertise or renown of the European HEIs in tropical ecosystems education and research, the partnership with the third-country HEIs contributes to the uniqueness of TROPIMUNDO, which is in part taught within and adjacent to the ecosystems which are in fact the third-country HEIs own. Our consortium maintains that
there is nothing like learning by doing in situ
.
Cross-training across three different European HEIs, in different cultural environments will give to TROPIMUNDO graduates a
better than average
level of independent analytical capacity, whereas interdisciplinary, in-depth scientific training will improve their ability to observe actual ecosystems, make diagnoses, formulate work hypotheses and devise possible practical solutions. Field training in a third-country HEI will be invaluable for both further research and productivity in management positions requiring effective understanding of ecosystems.
This will make
TROPIMUNDO graduates
:
(i) better able to write a PhD project,
(ii) better able to write a project to seek funding for a cooperation project within an ONG or a consulting firm,
(iii) better capable to devise original solutions when faced with real-world problems and practical obstacles in education and research
sensu lato
, and
(iv) substantially better teachers
The
expertises
in the field of tropical biodiversity and ecosystems at each of the full-partner institutes as evidenced by their peer-reviewed publications in Web of Science or by their education and research facilities are as follows:
ULB
: Mangrove forests (spatio-temporal dynamics, socio-ecology and restoration), tropical rainforests and woodlands (vegetation science, population genetics, termite and ant communities);
VUB
: African Lakes (vegetation science, conservation genetics), mangrove forests (vegetation science, ecophysiology and functional anatomy), coral reefs (biodiversity, phylogenetics);
UPMC
: Tropical rainforests (vegetation science, phylogeny, bioinformatics);
MNHN
: Tropical rainforests (vegetation science, systematics, taxonomy, phylogeny, flora and fauna, man and environment, agroforestry);
UNIFI
: Mangrove forests and coastal biology (zoology, evolutionary biology, animal behaviour and orientation, physical landscape processes), ecotone ecosystems (marine-terrestrial ecotone and vegetated-desert ecotone : ecological, social and economic issues in environment stewardship);
UdG
: Amazonian ecosystems (biodiversity, landscape processes, socio-cultural diversity of Amazonian rainforests and wetlands);
UdA: Insular ecology in the tropics (biogeography, terrestrial and semi-terrestrial forests)
UDsch: African tropical rainforests and woodlands (sustainable management of forests resources, identification, characterisation and domestication of non-timber forest products, biodiversity evaluation and characterisation);
UNIVANTA: Ecology of fauna and flora of Madagascar (systematics, physiology, anatomy, evolutionary ecology and adaptation), socio-ecological and behavioural science (primatology, ethnobotany);
UMT: tropical coastal forests, mangroves, seagrasses, coral reefs;
HKU: Rocky shore ecology (behavioural and physiological adaptations of fauna), coral reef ecology (anthropogenic impacts on coral reefs), mangrove ecology (crab and vegetation ecology), seagrass and subtidal ecology (impact of ocean acidification), terrestrial ecology (entomofaunal ecology), freshwater ecology (pollution and other human disturbance), urban ecology (animal biodiversity in cities and behavioural consequences);
UQ: Humid wet tropics, mangroves, coral reefs (tropical terrestrial and marine ecosystem management, geomatics, reef communities, fisheries science, coastal and reef impacts).

TROPIMUNDO's HEIs have extensive experience teaching European and third-country students. Several HEIs jointly organize or are involved in the Master International en Biodiversité et Environnements Végétaux Tropicaux (ULB-UPMC-MNHN-UDsch), International Course Programs (ICP) of the Vlaamse Inter-Universitaire Raad - VLIR (ULB and VUB staff involved in the ICPs Master of Science in Marine and Lacustrine Science and Management - Oceans & Lakes , formerly named the Master in Ecological Marine Management - Ecomama, the Master of Science in Biology - Specialisation Human Ecology and the Master of Science in Aquaculture), and joint European projects such as the Marie-Curie International Research Staff Exchange Scheme Coastal Research Network on Environmental Changes - CREC (ULB-VUB-UNIFI-UQ).

The key staff in TROPIMUNDO currently supervises more than 150 PhD students in their respective laboratories. They are also professors at undergraduate and graduate levels in their respective institutions, in charge of lectures in the fields relevant to TROPIMUNDO. In addition to the key academic staff, administrative staff from HEIs will participate in the organisation and implementation of the program. Leveraging their experience in international collaboration, including in international Master programs, such staff will ensure high-level management of the program, including its promotion, the call for applications, selection, admission, and follow-up of the students.